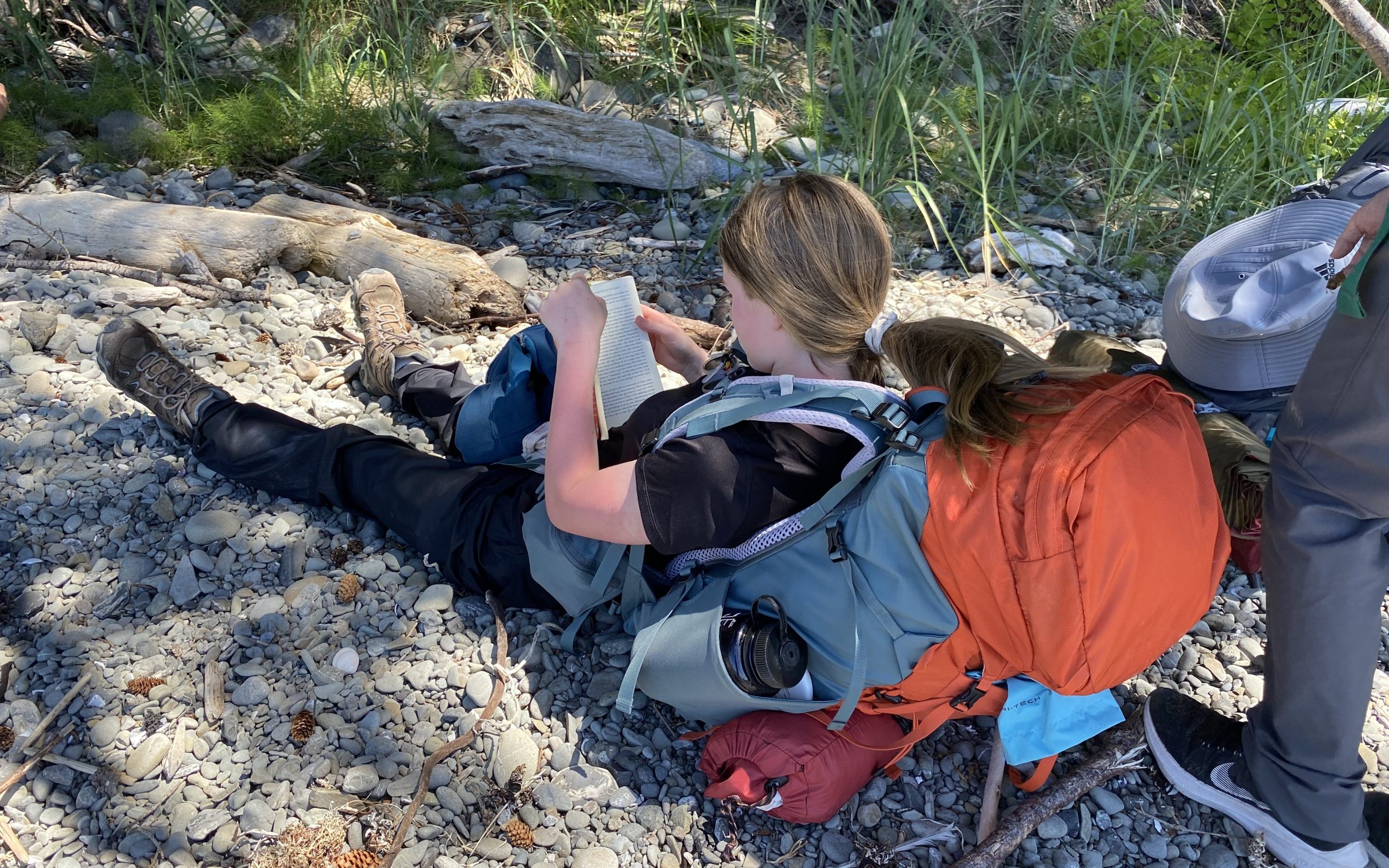 Trip Details
This unique backpacking trip is geared towards creating a welcoming, inclusive environment where students can express their creative side for the duration of the trip. Participants are encouraged to bring and wear costumes for as much of the trip as they feel comfortable, to choose their own names and characters, and describe as much of their character's backstory as they prefer. It doesn't matter if you have a novel's worth of background information, or you simply want to go as a pirate named Jeff, the goal of this trip is to allow students to express their own identities, no questions asked. While there will be a loose story script provided by the guides for the student's characters to fit into, the format is open enough to allow many different directions of expression.
While this trip is not exclusively for the LGBTQ+ community, it is specifically intended to be a welcoming space for queer, questioning, trans, and gender non-conforming youth.
Costumes and Characters takes place on the Olympic Peninsula on the trail known as the Ozette Triangle, in the ancestral homeland of the Makah people. About halfway through the second day of hiking, the trail passes the Wedding Rocks, the site of petroglyphs depicting whales, sailing ships, hunters, and priests. Ozette is remote, less visited than many other areas on the Olympic Coast, and is characterized by wild and rugged coastline views.
We provide all needed gear, including boots and clothing if notified 4 weeks ahead of time. Food from lunch on the first day to lunch on the last day is provided, and we will send you a menu and food options form to fill out before your trip. Transportation is provided from the meet location in Edgewood and back.
Itinerary
Day 1: Gear up day

Meet at Sahale Outdoors
Gear fitting, classroom, and orientation
Camp at trailhead

Day 2: Backpack 3 miles to camp
Day 3: Backpack 3 miles to camp
Day 4: Backpack 3 miles out
Learning Goals
Leave no trace
Gear management
Plant and wildlife identification
Basic backpacking skills such as cooking, campfires, filtering water, first-aid
Map reading
Local geography
Cultural history
Logistics
Meet Location: Edgewood, WA
Meet Time: 9 AM
Pick-up Location: Edgewood, WA
Pick-up Time: Approximately 4-6 PM, guides will reach out to guardians to communicate ETA
Gear Provided
Tent
Backcountry sleeping pad
Multi-day backpack
Sleeping bag
All meals from lunch the first day through lunch on the last day
All entrance fees, permits and passes
First-aid kit and satellite phone
Group kitchen and food service gear
Water bottles
Costume, name, and character
How to Not Overpack: What to bring (and not to bring) on your Sahale Outdoors trip
Paperwork
Highlights
Creativity – Tidepools – Wildlife – History – LGBTQ+ – Games
Difficulty Level
Easy: Very little elevation gain and loss, 9-15 miles over four days, boardwalk and wide trails in the forest, some challenging footing over sand and boulders along the beach sections.
---
Length
Five days
2023 Schedule:
High School: June 24-28
Middle School: June 24-28
---
Price: $800 per person
Includes gear rental, food, transportation, and all entrance fees, permits, and passes.
25% of the total trip cost is due at sign-up, with the remainder due one month before the trip date. You are welcome to pay in installments, contact trips@sahaleoutdoors.org to set up a payment plan.
Our mission is to make outdoor recreation accessible to all. If you cannot afford the total trip cost, send us a brief message to request a sliding scale pricing form.