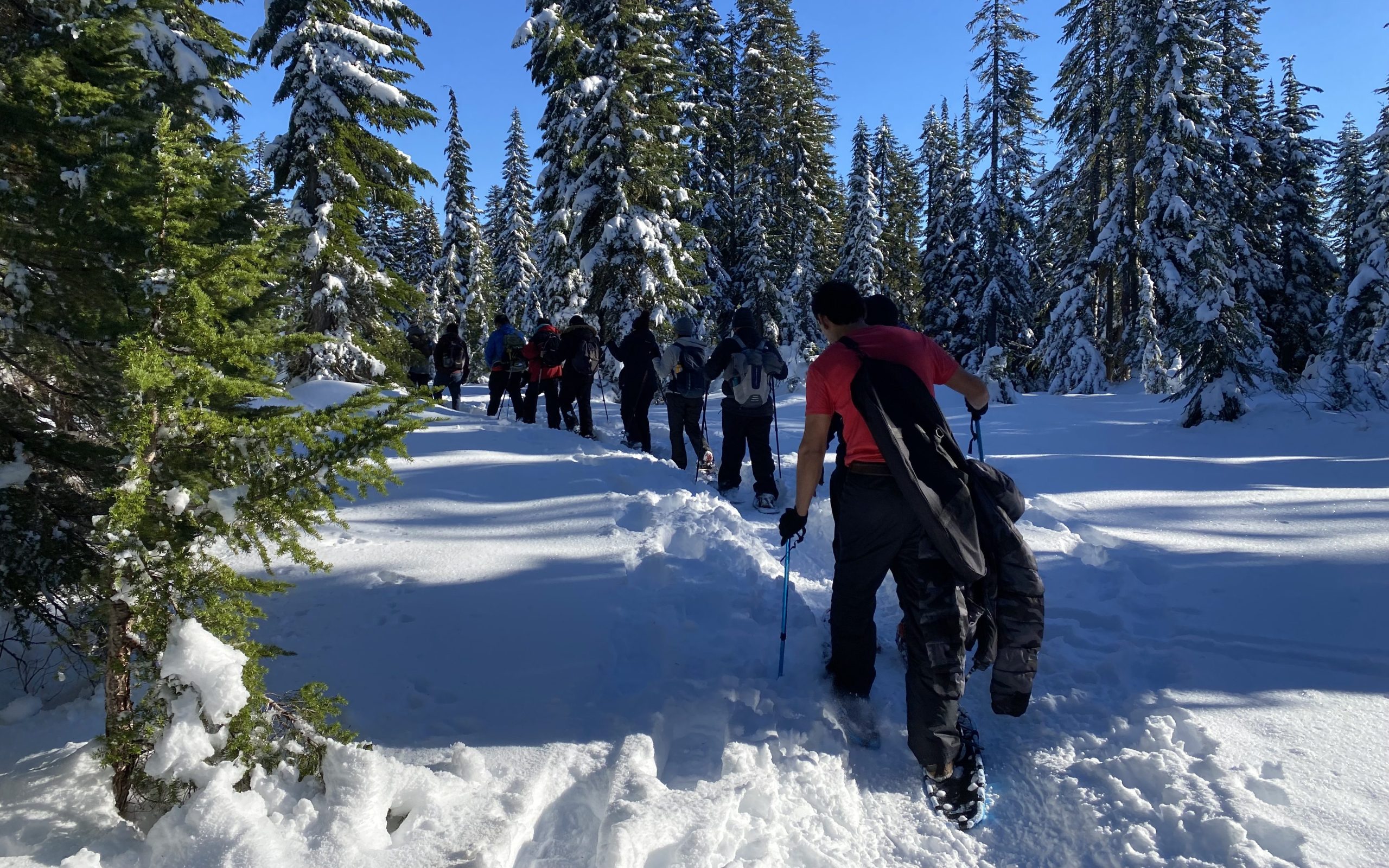 Adventure with others with our fun, engaging, group trips to Mt. Rainier National Park or Snoqualmie Pass, whether it's heading out for a night hike through the snowy forest under the stars, taking a sweetheart on a Valentine's Day weekend trip to Mt. Rainier National Park's Paradise area, or going green for a St. Patrick's Day weekend afternoon.
We provide transportation, snowshoes, trekking poles, backpacks, headlamps if needed, and hot drinks (hot chocolate, hot apple cider, and a selection of tea).
What to bring: Packing List, dinner or lunch, and any specific drinks.
2024 Schedule
January 13: Snoqualmie Pass, 3 PM to 10 PM. This night hike meets at the Angle Lake Station at 3 PM for the 1.5 hour drive to the trailhead at Snoqualmie Pass. Once at the parking lot, we will hand out gear to borrow, do a brief orientation for those who have never been snowshoeing, then pack our dinners and head down the trail. At dinner time, we'll transform the winter forest into a wonderland with twinkle lights and hot drinks. We'll get back to the van around 8:00 PM and get you back to your car at Angle Lake before 10 PM.
February 10: Mt. Rainier National Park, Paradise, 8 AM to 4 PM. Whether it's a first date, a celebration of your relationship, or a Valentine's Day gift to yourself, snowshoeing is a great way to bring extra joy into mid-February, and work up an appetite for all that discounted chocolate. We'll meet at the HWY 512 park and ride in Lakewood at 8 AM for the 2 hour drive to Mt. Rainier National Park's Paradise recreation area, where we'll snowshoe the trails, eat lunch along the way, see the beautiful plants and animals that call the winter slopes of Tahoma home, and finally, warm up in the lodge with some hot drinks. We'll leave by 2 to have you back to your car in Lakewood by 4, with plenty of time to get to your Saturday night plans.
March 16: Snoqualmie Pass, 10 AM to 5 PM. What better way to celebrate this green holiday than by exploring the PNW forests? Join us St. Patrick's Day weekend for an afternoon celebration of everything that makes our evergreen trees special. BYOB and meet us at Angle Lake Station at 11 am for the drive up. We'll eat lunch at the trailhead before snowshoeing into the forest to play a tree-themed game and search for signs of spring before heading back down the mountain to get back to Angle Lake by 5. The grass and trees at lower elevations will seem even more vibrant after celebrating all the green in the snowy forests!
Highlights
Snow – Forests – Education
Difficulty Level
Easy-Intermediate: Some elevation gain and loss, hiking through snow with snowshoes.
---
Price: $110 per person
Covers guides, all gear rental, transportation, and entrance fees, permits, and passes.
*Our minimum number for this trip is 4. If at least 4 people are not signed up, participants will be refunded for the cancelled trip.
Sliding Scale Pricing:
Our mission is to make outdoor recreation accessible to all. If you cannot afford the total trip cost right now, send us a brief message to request sliding scale pricing.