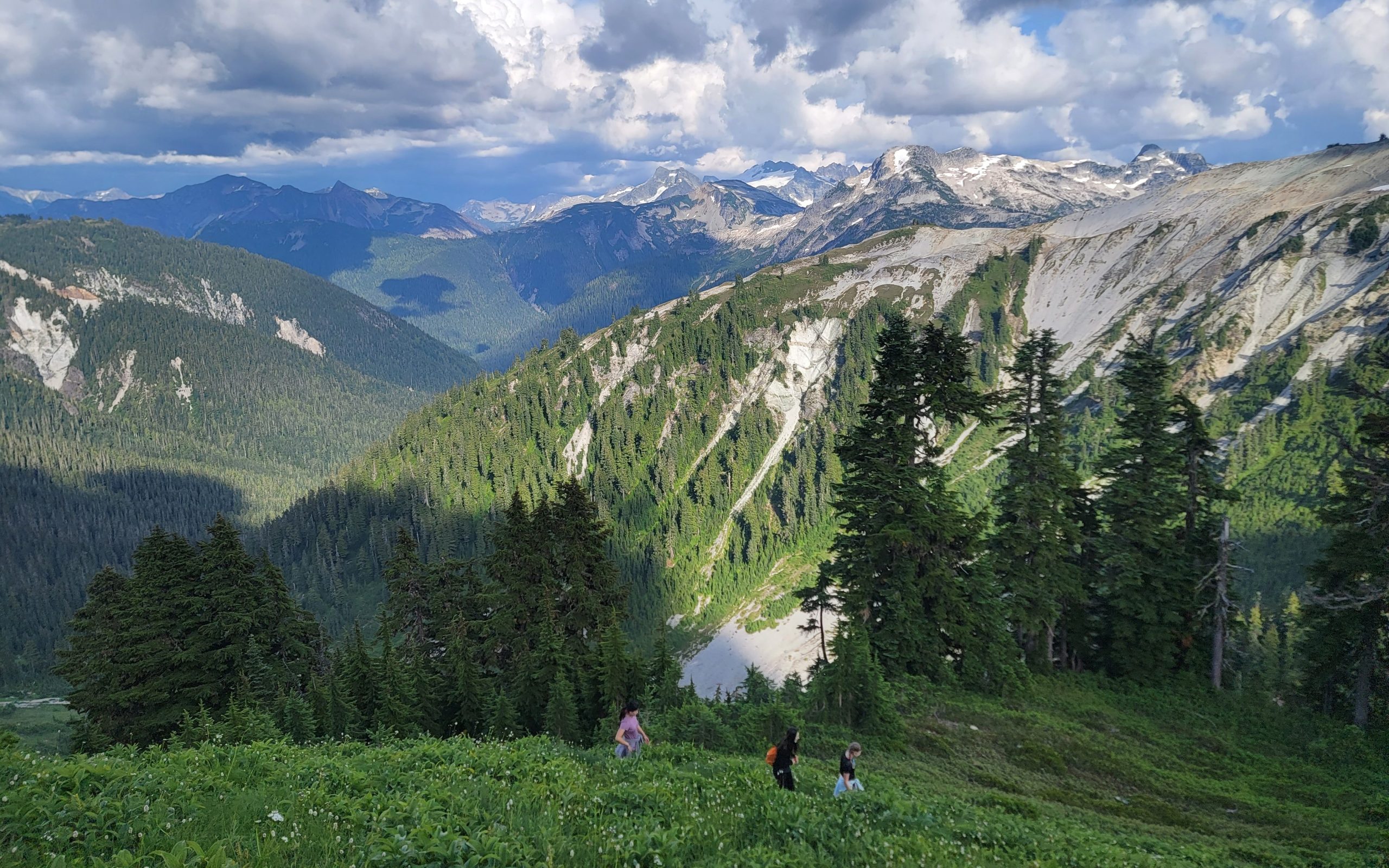 Trip Details
Hike through forests and past creeks and waterfalls into beautiful alpine meadows with expansive views of the North Cascades mountain peaks including Mt. Baker and Mt. Shuksan. Whether in the up-close details of the wildflowers along the trail or the wide-angle views of the snow-capped peaks in the distance, you'll feel like you're walking through a gallery of some of the best the Cascades have to offer on this rewarding backpacking trip.
We provide all needed gear, including boots and clothing if notified 4 weeks ahead of time. Food from lunch on the first day to lunch on the last day is provided, and we will send you a menu and food options form to fill out before your trip. Transportation is provided from the meet location in Edgewood and back.
Itinerary
Day 1: Gear fitting and orientation, camp at trailhead
Day 2: Backpack 3 miles to camp
Day 3: Day hike (leaving backpacks at camp) to Egg Lake in North Cascades National Park
Day 4: Day hike to Hannegan Peak, or backpack up to peak and spend the night at the summit
Day 5: Backpack 3-4 miles back to trailhead
Learning Goals
Leave no trace
Gear management
Plant and wildlife identification
Basic backpacking skills such as cooking, campfires, filtering water, first-aid
Map reading
Local geography
Cultural history
Logistics
Meet Location: Edgewood, WA
Meet Time: 9 AM
Pick-up Location: Edgewood, WA
Pick-up Time: Approximately 4-6 PM, guides will reach out to guardians to communicate ETA
Gear Provided
Tent
Backcountry sleeping pad
Multi-day backpack
Sleeping bag
All meals from lunch the first day through lunch on the last day
All entrance fees, permits and passes
First-aid kit and satellite phone
Group kitchen and food service gear
Water bottles
Paperwork
Highlights
Mountains – Wildlife – Views
Difficulty Level
Intermediate: Over 3,000 feet of elevation gain and loss, 10.2 miles over three days, no technical skills needed.
---
Length
Five days
2024 Schedule:
July 29-August 2: High School
August 5-9: Middle School
---
Price: $800 per person
Includes gear rental, food, transportation, and all entrance fees, permits, and passes.
25% of the total trip cost is due at sign-up, with the remainder due one month before the trip date. You are welcome to pay in installments, contact trips@sahaleoutdoors.org to set up a payment plan.
Our mission is to make outdoor recreation accessible to all. If you cannot afford the total trip cost, send us a brief message to request a sliding scale pricing form.